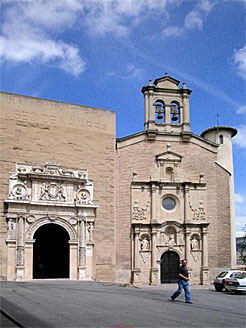 Museum of Navarre
Open since 1956, the Museum of Navarre was reinaugurated in 1990, following a complete restructuring, by Queen Doña Sofía. Its permanent collection comprises archaeological relics dating from prehistorical times, from the beginning of history and from the perod when the Romans occupied Navarre.
Works of medieval, Renaissance and baroque art, secular as well as religious, and pieces by artists from Navarre of the 19th and 20th centuries make up the Museum's collections. Items of international importance that stand out amongst them include the Arqueta (ornamental chest of Leire), an exceptional piece of Spanish/Moslem art made out of ivory, the Roman capitals of the cloisters from the original Pamplona Cathedral and the portrait of the Marquis of San Adrián, signed by Goya in 1804.
The task of disseminating Navarre's heritage is complemented by the organisation of a dynamic programme of activities, including the following: seasonal exhibitions, guided tours of the permanent collection and seasonal exhibitions, cultural activities (film series, classical music concerts and conferences) as well as educational activities for teaching establishments and the general public (workshops and dramatisations). Every year professional training scholarships are held in the Museum of Navarre.
Owner: The Government of Navarre.
Content: Works of art and archaeology from Navarre's history
Complementary resources: Function room, specialised library, educational room and shop.
Opening hours: weekdays from 09.30-14.00 and 17.00-19.00; Sundays and public holidays 11.00-14.00; closed on Mondays.
Admission charges: standard: 2 euros; concessions: 1 euro; free for senior citizens, children and school parties, Saturday afternoons and Sundays; group visits by prior appointment.
Tel.: 848 426492 or 848 426498
E-mail: museo@cfnavarra.es