ABOUT THE PROJECT - FORLAN
FORLAN is an innovative European training project developing novel learning strategies for basic skills. The project includes new contents and methods, emphasising digital literacy – a must for career development today.
Basic skills Learning Strategies for Employment Pathways" project is funded within the European Program for Employment and Social Innovation (EaSI) of the European Commission, Progress axis.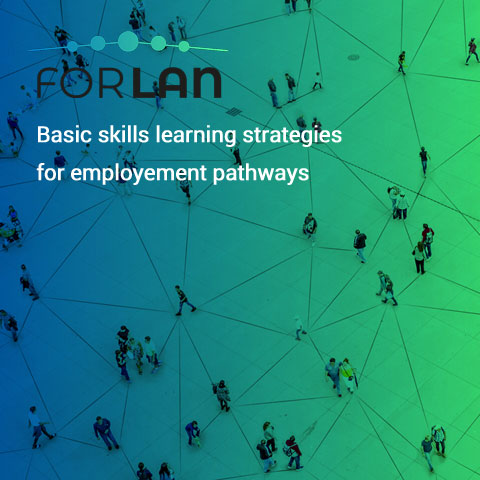 FORLAN is part of the active employment policies that seek to reduce the number of adult job seekers with little basic skills. Spain – and all the Spanish autonomous communities, including Navarra – is one of the EU countries with the highest rates of adults with low educational attainment. In 2019, 38.7 percent of the Spanish population – 29.2 percent of the population in Navarra – aged 25-64 had only reached the level of unfinished secondary school or lower (source: INE-Eurydice Spain).
The FORLAN pilot experience will unfold through August 2022. See Work plan.
The project will be carried out in two areas, targeting the individual needs of various groups of people:
Public employment and social services:
The long-term unemployed with little training benefiting from minimum income schemes, inclusive/active employment action or programmes.
Workers with temporary or precarious jobs, getting in and out of the labour market, usually supplementing their wages with the Navarra minimum income scheme.
Service sector, construction and manufacturing industries (ANEL and FLC):
In addition to targeting workers with temporary or precarious jobs in these sectors, the project will support digital transformation plans. Thus, FORLAN is also targeted at workers with all levels of training who need to acquire digital skills for career development or to contribute to their companies' competitiveness.
In addition, FORLAN is expected to improve the initial skill assessment system for better evaluation, in order to make more homogeneous groups of learners, as well as to make suggestions to redesign adult learning policies at the national and regional levels, increasing the effectiveness in the acquisition of basic skills. Other project goals include enhancing cooperation between the Departments of Employment, Education and Social Rights.