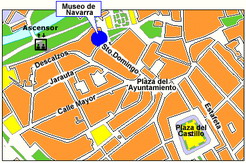 Location of the Museum of Navarre
Address, Access and Contact
C/ Santo Domingo, 47
31001 Pamplona
e-mail:museo@navarra.es
Aerial view
Public transport
Calendar
Opening Hours
Visiting Hours:
- Tuesday -Saturday: 9:30-14:00 and 17:00-19:00 h.
- Sundays and public holidays: 11:00-14:00 h.
Also: Holy Thursday, 1st May, 6th July, 24th and 31st December.
- Mondays: closed. Also: 1st January, Good Friday, 7th July, and 25th December.
Office Hours: Monday-Friday 8:00-15:00h.
Library Opening Times: Monday-Friday 9:00-14:00h.
Prices
On the occasion of the temporary exhibition Yo, la peor de todas" (I, the worst of all), which spans different floors, the entrance to the Museum of Navarre, will be free until February 4t
General price: 2€.
50% discount: subject to accreditation for Youth Card holders, Student Card holders and groups from educational or cultural institutions by prior appointment.
Free entry: subject to accreditation for persons under 18 and over 65, pensioners, ICOM members, unemployed (INEM card), pilgrims (Credential or Pilgrim Record), teachers with accreditation of their school address, and Friends of the Museum of Navarre. Coupons from the promotional campaign Navarra Welcomes You for Free are also accepted.
Free entry days for all visitors: Saturdays 17pm to 19pm, Sundays 11am to 14 pm, and International Museum Day (18th May), World Tourism Day (27th September), Spain's National Day (12th October), Day of Navarre (3rd December),and Constitution Day (6th December) during the full opening hours.
Rules