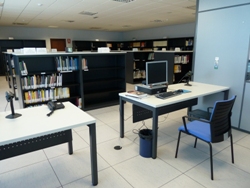 Ethnological Museum library.
The Ethnological Museum's library collection contains around 5000 documents which include monographs, journals and audiovisual materials.
Our holdings are part of the Public Library Network of Navarre as a specialised library. The library catalogue is available online or through a specific application for mobile phones and other mobile devices, which can be downloaded by capturing the image of the QR code.

The Museum Library offers the following services:
• Bibliographic information in person, by telephone, in writing or by e-mail.
• Access to the collection for consultation is available in the reading room. Interlibrary loan service is provided.
• Book loan service is not available for external users.
Library opening hours: Fridays, except public holidays, from 8:30 to 14:30.
Contact: Tel/fax: 00 (34) 948 553556 E-mail: biblioet@navarra.es
Ethnological Museum library.
NEWS BULLETIN
The library and documentation centre newsletter "Boletín de Novedades" (News Bulletin) is updated each trimester to inform the users of the latest acquisitions.
Bulletins will be sent via e-mail upon request.
Summer Reading Guide.
SUMMER READING GUIDE
With the arrival of summer many of our villages celebrate their fiestas. It is because of this, and with the intent of enlightening a little these festivities, that the Library of the Ethnological Museum of Navarre "Julio Caro Baroja" presents its first reading list under the title: "Fiestas- Toros-Peñas / Fiestas-Bulls- Social Groups" containing a selection of writings on this topic.