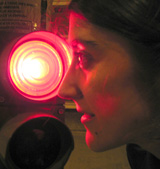 Clues to understanding Heterodocsies
A festival is not only defined by the films it screens, but also by those which it would like to screen. Last year, and as a result of a similar idea, Heterodocsies was created: "a permanent programme to investigate Spanish documentary film".
A mutant area at the heart of Punto de Vista from which to investigate and delve into Spanish documentary film's least-known realms, Heterodocsies was, and still is, above all, a wish list.
At the top of the list, to open a space on our screens for those films which normally pass unnoticed, which are tucked away in a drawer, which were never completed, whose completion was deemed undesirable, which nobody dared show.
The survey of more than a hundred spectators with which the section got under way at the 2007 festival allowed us to photograph the terrain in which to manoeuvre. To establish the misty boundaries of heterodocs film, to sketch a map of borderline documentary film history.
This survey provided a list of names, titles, films and ideas which, in some way, define the work of Heterodocsies: a permanent exploration of the obscurer regions of documentary film.
"The seeing hand" is a project in constant evolution, which itself has a blog:
http://lamanoquemiralamano.blogspot.com