MIKHAIL VARTANOV
Documentary oeuvre of Mikhail Vartanov began with the wordless Color of Armenian Land (1969) featuring the world famous behind-the-scenes episodes of Sergei Paradjanov's landmark Sayat Nova (1969).
Vartanov's public support of the imprisoned Paradjanov and the outspoken criticism of Armenia's corrupt film industry resulted in a blacklist shortly thereafter - his films were suppressed, unmentioned by press and banned from submission to foreign film festivals.
In those years, Vartanov exquisitely lensed Artavazd Peleshian's classic Seasons of the Year (1975) and Gennadi Melkonian's comedy The Mulberry Tree (1979). During the collapse of the Soviet Union, Vartanov directed the trilogy Erased Faces (1987), Minas: A Requiem (1989) and Paradjanov: The Last Spring (1992) - his masterpiece - a staggering drama about the man whom the regime persecuted but who stood his ground and triumphed.
The following decade Vartanov spent conducting film and photo experiments in a small Hollywood apartment. He will next appear in Erased Faces II by Martin Vartanov with whom he is producing Evrika, a film based on a method they call "direction of the undirected action."

MARGARITA DE LA VEGA-HURTADO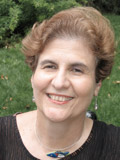 Graduated from the Faculty of Social Communication at Bogotá's Jorge Tadeo Lozano University and then completed a American Culture doctorate at the University of Michigan with a dissertation under the title of "A Foreigner's Gaze: The American Films of Louis Malle".
She worked from 1993 to 2000 in the University of Michigan as Assistant Director of the American Culture Programme, the Latino Studies Programme and supervising doctoral theses and research. From 2002 until December 2006, Margarita de la Vega-Hurtado has been Executive Director of New York's Flaherty International Film Seminars.
She has curated and programmed seminars and film festivals at the Universities of Pennsylvania, Ohio and Michigan. Her teaching work includes conferences and courses on, among other things, Latin American history, culture and film, women's films in Latin America, Gabriel Garcia Marquez in films and periods and genres in American cinema.
Margarita de la Vega-Hurtado regularly works with film societies, universities, museums and institutions such as New York's Museum of Modern Art, the Maryland Film Festival in Baltimore or the Film Society of Lincoln Center in New York. Her research centres on Latino cinema, independent cinema in the United States, documentaries and avant-garde film, Third World cinema, popular culture, literature and contemporary art in America, etc.
YAEL PERLOV

Yael Perlov produces and edits documentaries, feature films and videos. Professionally, she started out working as Assistant Editor on a number of films directed by the likes of Claude Lanzman, Amos Gitai and her father, David Perlov. As editor, she has worked alongside the film directors Ruth Walk, Rachel Schawartz, Dover Kosashvili, Ido Glas, Reuven Hecker, July Schlez and Noemi Ben-Natan Schory.
She has taught Editing in the Film and Television Department of the Faculty of the Arts at Tel Aviv University since 1994. She has also given conferences at Jerusalem's Sam Spiegel Film & Television School and, since 2005, at Tel Aviv's Minshar School for Visual Arts.
Over recent years and while continuing her teaching work, Yael has also edited and produced fiction films and, above all, documentaries. From 1985 to 1989, she edited Diary, the diaries of her father, David Perlov. Her latest project is as producer and editor of the documentary series A Room of Your Own-Women Writers, directed by Ruth Walk.
She has received the Israeli Ministry of Culture's Prize of the Art of Cinema and the Israeli Film Academy Prize for editing the film Late Marriage.
JAIME PENA
Graduated in Geography and History (History of Art). Responsible for programming at the CGAI (Galician Centre of the Visual Arts) since 1992 and Director since 2006, Pena has also published a range of articles in magazines such as Vértigo, Grial, Archivos de la Filmoteca and Secuencias, and contributed to various publications on Spanish cinema, such as Diccionario del cine español (Alianza Editorial / Academia de las Artes y Ciencias Cinematográficas de España) and Antología crítica del cine español (Cátedra / Filmoteca Española).
Together with José Luis Castro de Paz, Jaime Pena coordinated the monographs on Camilo José Cela, Wenceslao Fernández Flórez and María Casares published by the Ourense International Independent Film Festival and also contributed to the volumes on Antonio Casal, Gonzalo Torrente Ballester, Manuel Mur Oti and José Antonio Nieves Conde. He was one of the coordinators of Diccionario do Cine en Galicia (CGAI, 2002) and Audiovisual Galego 2003 (CGAI, 2003).
His books include: Ramón Torrado, cine de consumo no franquismo (CGAI, 2003, with José Luis Castro), La Coruña y el cine: 100 años de historia, vol. II (Vía Láctea, 1996), El espíritu de la colmena (Paidós, 2004), AEHC prize for the best monograph of the year, and Cine español. Otro trayecto histórico (IVAC, 2005, with José Luis Castro de Paz).
At present, he is a regular contributor to the film publications El Amante (Argentina) and Letras de Cine (Spain), and the on-line publication Tren de Sombras.
FERNANDO PAGOLA
Taught Projects and Drawing at the University of Navarra's School of Architecture from 1986 to 1989, but now devotes himself solely to painting. Fernando Pagola was responsible, together with Rafael Llano, for the tribute season devoted to Andrei Tarkovsky which the University Film Club organised in Pamplona in 1989, the first complete retrospective of Tarkovsky's filmography to be held in Spain.
He has had solo exhibitions at the Museum of Navarra (2005), Galería Moisés Pérez de Albéniz (Pamplona, 2003), Sala de Cultura Juan Bravo and Galería Salvador Díaz in Madrid, Palacio de los Condes de Gabia in Granada, Sala Rekarte, Bilbao, and Galería A+T de Bilbao, Galería Hélène Roorick in Pamplona, Galería Lekune (Pamplona) and in Cizur Menor.
Fernando Pagola has taken part in numerous group exhibitions, including Arco (since 1998); the Testimony Collection (Caixa Forum, Pamplona 2004); Artea Oiñez'04, travelling exhibition (Pamplona, Bilbao, San Sebastian and Estella); Por amor al arte, in Galería Juan Manuel Lumbreras (Bilbao); Carte Blanche á Carles Valverde, Espace Saint-Francois (Lausanne. Switzerland); Museo Gustavo de Maeztu (Estella); Palacio de Arazuri (Navarra); Acquisitions of Pamplona City Council; Galería Moisés Pérez de Albéniz and the Pamplona Planetarium (Current-day Navarrese Art), among others.