Masterclass by Alan Berliner, one of the USA's most acclaimed independent filmmakers.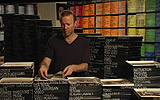 The American director Alan Berliner, one of the USA's most significant independent filmmakers, shall be attending Punto de Vista, where he is set to give a masterclass. The event hopes to serve as a place to encounter and reflect upon his audiovisual work, marked by films such as The Sweetest Sound, Nobody's Business, Intimate Stranger and The Family Album.
Alan Berliner's uncanny ability to combine experimental cinema, artistic purpose and popular appeal in compelling essay-films has made him one of America's most acclaimed independent filmmakers. The New York Times has described Berliner's work as "powerful, compelling and bittersweet... full of juicy conflict and contradiction, innovative in its cinematic technique, unpredictable in its structure... Alan Berliner illustrates the power of fine art to transform life".
Berliner has won three Emmy Awards and has collected prizes at the world's foremost festivals. In March 2006, to name but one occasion, he received the International Trailblazer Award at the MIPDOC Conference in Cannes (France) for his creativity, innovation and originality in the field of documentary film.
Retrospectives of his career have been shown at New York's Museum of Modern Art (MOMA) and the International Center of Photography (NYC), among others. At the last International Documentary Filmfestival Amsterdam (IDFA), which ended on the 3rd of December 2006, Berliner chose the films to be screened as part of a season of what he considered the best documentaries of all time.
As many will remember, Alan Berliner came to Pamplona in 2002 to attend the complete retrospective of his films shown at that year's Audiovisual Creation Festival of Navarra. Precisely as a result of that season, the four films he made prior to Wide Awake were published in Spain in DVD format.