The production company X Films was founded in Pamplona on the 1st of January 1963. It was the brainchild of Navarran businessman, art patron and collector Juan Huarte Beaumont with the idea, as the company charter cites, of producing films of "unique artistic interest or which represent special values". The young architect Fernando Redón Huici and Juan Marañón Richi accompanied Huarte in the venture.
Juan Huarte first thought of the idea of a production company as a means of offering his patronage and taking the ideas of artists, intellectuals and filmmakers he knew and shared creative and artistic concerns with to the big screen. It has always been said that X Films was born of the relationship between Juan Huarte and Jorge Oteiza.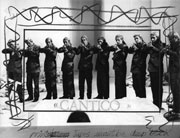 Jorge Oteiza was indeed greatly interested in film and his script for Acteón based on Ovid's myth, written between November and December 1963, bears evident witness to the fact. This great X films project, which was at first to be directed by Jorge Oteiza and Jordi Grau, came up against huge problems from the outset. Maybe Oteiza's lack of filming know-how, together with his artistic temperament, marked the course for disaster for the film, which was eventually directed by Jordi Grau alone.
Experimental film was not, however, X Films' only interest as a production company. In the Seventies, a number of young filmmakers in search of their first break joined the payroll. Now-consecrated film directors made their first films with X FILMS, such as José Luis Garci, José Luis García-Sánchez, Luis Eduardo Aute, Claudio Guerín, Carlos Morales, Juan García Atienza or Manuel García Muñoz.