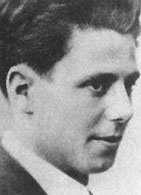 We are playing with history. Let us imagine a meeting which nobody knows existed, outside biographies. Jean Vigo meets Boris Vian. Any afternoon, any Parisian café, any rain in the background. Any winter in the nineteen thirties. On the table, hot wine and newspapers. Boris and Jean look at each other. They recognise each other. Or not. They remain silent, each one admiring the work of the other. Two fleeting lives, face-to-face, two anarchists, two provocateurs, two revolutionaries, two hunger artists. Boris Vian, the man of parallel lives, writer, false translator, singer, composer, trumpet placer and bus driver. Jean Vigo, film director.
Neither of them reached half a century. They both lived in the fast lane, both ignoring medical advice. And both of them have left permanent marks over their bumpy ride through life. Those of Boris Vian are easy to track down. Better known. His books, the ones he wrote in his name or those which he sold as translations, are customarily republished. Et on tuera tous les affreux. J'irai cracher sur vos tombes (I'll spit on your graves). And more. There are records. There are songs. There are biographies. And people say: And Jean Vigo? Where are his marks? Or even better, they say: Who is Jean Vigo?
Jean Vigo is the one who we're going to talk about now. It has been said: an armed anarchist. With a movie camera. A ground-breaker. A fast liver. An artist. A revolutionary. Above all, a film maker. In the course of his barely thirty years of life, he made four films. With few means but with a great deal of will. And the four films have ended up forming part of cinema history. A Propos de Nice. Taris. Zero de Conduite. L'Atalante. Period.
Born in Paris in 1905, Vigo's biography is now overshadowed by the misfortunes of his early years which, in the taste of cheap biographies, marked his combative character and his limited artistic production. Vigo's father, Miguel Almereyda, was a distinguished anarchist militant who died, murdered under the clumsy appearance of suicide in a French prison in January 1917, when little Jean was only twelve years old. Malnourished, weak and somewhat abandoned by his mother, another militant anarchist, he was adopted by his paternal grandmother and her new husband, whose surname he borrowed for some years: Salles. With that name, Jean Salles, the name Vigo appears registered in a Millau boarding school between 1918 and 1922. In that boarding school and to honour the memory of his murdered father, Jean started to forge his acidic and libertine spirit, cultivating the refined art of lack of discipline. From his experiences in that school would come into being his second film, with an unmistakable title: Zero de Conduite, which might well be applied to his whole attitude to life.
But let's not be hasty. Before there was the Sorbonne, which he never managed to enter because his delicate state of pulmonary health obliged him to withdraw to a clinic in Andorra. And then, also in Andorra, Elizabeth Lozinska, nicknamed Lydou, the daughter of a Polish industrialist who would become his companion until his death. And always with his vocation as a film maker. In contrast to other contemporaries who ended up in film by accident, mistake or curiosity, Vigo was very clear about his vocation as a film maker, both artistic and social and sarcastic. When referring to film from his era (although he might have been speaking of that of our times), he said: "In film we deal with our intellect with the same refinement as the Chinese tend to normally reserve for their feet." And finally, he ended up making A Propos de Nice.
Once again guided by the bad state of his health and doctors' advice, Vigo travelled to Nice, the cradle of the French bourgeoisie and symbol of everything he detested. There, with the money which Lydou's father had lent him and the help of a special cameraman, Boris Kaufmann, the brother of another of the pillars of documentary film, Dziga Vertov, he filmed his scathing portrait of rotten bourgeois life in the Mediterranean city in 1929: A Propos de Nice. A half-hour long short with clear surrealist influences, cutting, daring and bloody, providing an image of and resemblance to his ideology, in which Vigo puts forward his theory of the "documented point of view," a libertine revision of Vertov's "eye-cinema" theory. In view of the objectivity which was already then attributed to the documentary genre, Vigo defends documentary film based on reality, but with a strong commitment on the part of the author through his own eyes. A viewpoint. Documented, but a point of view. He put it best himself: "This social documentary differs from the run-of-the-mill documentary and weekly newsreels on current affairs in the point of view unequivocally defended by the author. This documentary demands that a stance be taken, because it makes things crystal clear. If it doesn't involve an artist, at least it involves a man."
An anecdote regarding the film. Invited to give a talk about documentary film, Vigo wanted to screen Un perro andaluz by Luis Buñuel. As he failed to obtain Buñuel's permission, he turned to his own short. And he presented it thus: "Concentrating on social film would mean deciding simply to say something and producing different echoes of the belches of all those ladies and gentlemen who go to the cinema to digest their food.
A Propos de Nice had modest success, and Vigo didn't film again until 1931, when he was given the unusual task of directing a documentary about the swimming champion Jean Taris. The result: Taris. In 1932, he met a strange producer, Jacques-Louis Nounez, a lover of the avant-garde and capable of squandering his money on risky projects. Thanks to him, he got together 200 thousand francs and started his first full-length film: Zero de Conduite. Clearly inspired by his experiences of youth at the boarding school, the film is irreverent from start to finish, criticizes educational institutions and is very personal and formally lyrical. As was to be expected, the censors withdrew the film from circulation for being seditious, and it wouldn't see the light of day again until
The failure of Zero de Conduite did not discourage either Vigo, out of reach of dismay despite his weak state of health, or his producer, who did not abandon the film maker and obtained – perhaps by the art of magic – a million francs for the following and last film of his protégé: L'Atalante. A minimalist story, that of some newly-weds on a barge, some praised dialogue, an image control and an unusual mixture of surrealism and love for the characters and their details, make L'Atalante its director's masterpiece. Among admirers of this film, François Truffaut: "By filming words and prosaic acts, he manages to produce poetry effortlessly." Unfortunately, Vigo didn't manage to listen to devoted words such as these, and instead had to put up with the fact that the production company mutilated the film, adding songs which were fashionable at the time and changing the name to "save it" from foreseeable public disaster. Failure, despite the refined surgery, was on a large scale.
Months later and who knows whether spurred on by the poor reception given to his films, Vigo died the victim of a septicaemia of rheumatic origin. That was on the 5th of October 1934. Today, his complete work fits on one DVD, it's possible to download his films from the Internet and the greatest measure of popularity in the world, Google, yields 207,000 hits when entering "Jean Vigo" into the search. However, few things would please him less than to know that the boarding school where he committed his first misdeeds would today bear the name of its worst and least grateful pupil. Jean Vigo. Now, who was Boris Vian again?