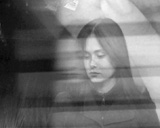 PHOTOS IN THE CITY OF SYLVIA

Screening with live music
Video shots frozen in black and white. A silent film open to enigma, a film borrowed from the origins of film and photography, a film which challenges and questions the audience.
A home movie, poured over in the silence of the editing room by José Luis Guerín and editor Nùria Esquerra, for days, evenings, years. A film which the director never thought of screening in public. A film with no soundtrack bar the silence of a secret screening.
When José Luis Guerín agreed to the idea of showing the film at the Gijon International Film Festival in 2007, he began thinking of creating a soundtrack to be played live, thereby completing the circle which links the contemporariness of the film with the origins of cinematography. After all, and despite what people may think, film was never silent.
Diego Yturriaga, former member of the group Migala, got a group of musician friends together and they started to shape the music and sounds which could accompany a film shot in the street, in the intimacy of the pedestrian.
In the end, his sister, Paula Yturriaga, composed the music, based, as Diego explains, on respect for the silence which resides at the heart of the film: "We fully understood that the silences should be maintained in order to focus on the small details of the film".
Following that first screening-concert, Guerín and the group have worked, fine-tuning details and converting Paula Yturriaga's composition into a true soundtrack for a silent film: music in the city of Sylvia.
View information about the film
MUSIC IN THE CITY OF SYLVIA
Composed by Paula Yturriaga.
Direction: Paula Yturriaga
Musicians: Pablo Toledo (violin), Carla Velasco (flute), Teresa Segura (cello), Miguel Expósito (clarinet), Diego Yturriaga (guitar).