Montage in Documentary and Experimental Film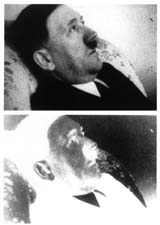 Punto de Vista has attempted, from the very beginning, to map the ever-changing territories of contemporary non-fiction. This was the driving force behind the essay-film retrospective La forma que piensa in 2007. And the same spirit underlies The Afterlife of Images, which invites us to review the concept of montage or appropriation of images in documentary and experimental film.
Montage, which has become a very common technique, refers to films made mostly of fragments of films shot by someone else that take on completely new meanings when placed in a new film context. The project The afterlife of images gathers films that cannot be overlooked in the history of montage (from film montage to found footage), such as Joseph Cornell and Ken Jacobs's classics or more recent films like those by Alan Berliner, Félix Viscarret or Jesús Pérez Miranda.